Our Blog
Do You Know the Cause of Dental Decay and Gum Disease? Frequently Asked Questions
Oral biofilm is the cause of periodontal disease, tooth decay and systemic inflammation.
What are biofilms?
Biofilms consist of three parts—
The bacteria,
The "slime" they produce
A defense mechanism: Many species of bacterial cells flock together to form an intricate community. This helps protect them from your infection-fighting white blood cells and antibiotics.
Biofilms can form on just about any wet surface... (Read More)
What's in YOUR Mouth? By Heather Mistretta
Mercury is in the air, water and soil. In fact, it's even in the earth's crust! It's natural, so that's good, right? Well, according to some, that might not be the case. And as the old adage says, too much of a good thing can be bad.
The most common way mercury is used is in dental fillings. The substance, dental amalgam, is a liquid mercury and metal alloy mixture used to fill cavities caused by tooth decay.
For years, modern dentists have been using dental amalgam, but the history of its medical effectiveness can actually be traced all the way back to the Tang Dynasty around 659, with evidence of its usage appearing...(Read More)
Eat Healthy Foods This Summer to Improve Your Oral Health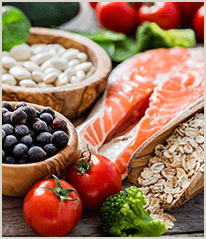 Eat healthy foods this summer to improve your oral health. Although many foods are just another obstacle that stands in the way of optimum oral health, did you know that there are some foods that have been proven to actually enhance your oral health? Listed below are some helpful foods and tips for your oral health with the wonderful benefits they can offer to your smile:... (Read More)
Your Dentists in Brick, NJ
John Tortora, DDS, and Mina Farag, DMD
Welcome to the office of John J. Tortora, DDS . We are a holistic dental practice, offering comprehensive dental care with a focus on helping you enjoy both oral and whole-body health. Our caring dentists and team strive to provide quality treatments with great longevity so that you can enjoy a healthy, beautiful smile for a lifetime. We invite you to call us at 732-295-1616 to make your appointment with Dr. John Tortora and Dr. Munira Sulaiman, and learn more about dental care in Brick , New Jersey , and the surrounding areas of Howell, Manasquan, Point Pleasant, and Toms River, New Jersey .
MEET OUR DENTISTS